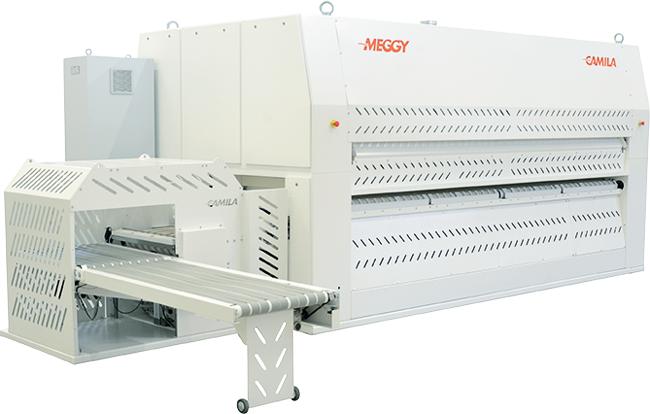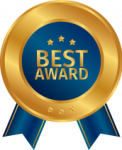 A MASTERPIECE … THAT CAN DO EVERYTHING!
The first double bowl Reverse diathermic oil dryer, and is the only compact machine capable of drying, ironing, folding, counter-folding and stacking up to 350 kg of flat linen in one hour, with an average consumption of only 10m³ of gas.


TECHNICAL INFORMATION

The first diathermic oil mangle with Reverse double chests compact machine capable of drying, ironing, folding, counter-folding and stacking up to 350 kg of flat linen in one hour, with an average consumption of 10m³ of gas with a temperature of 180°C.
MEGGY brings together a high-performance strip ironer and a longitudinal and transverse folding system in a single block-a small size.

A space of about 18m² is sufficient, in addition to the necessary steps required by current safety laws.

Thanks to an original and Patented system, the linen is ironed in the two sides achieving a higher ironing quality than other similar machines on the market adopting the old system.

Ironing takes place between a combination of Polyester and Aramid tapes that drag the linen and keep it snug between the chest. This allows for optimal quality ironing of the linen while preserving the fabrics from mechanical stress.

The transfer of linens between the first and second chest occurs naturally without the aid of ribbons or anything else.

The ironing surface, where the laundry comes into contact is 2000mm, for a useful ironing width 3500mm.

Another peculiarity of Meggy is the uniformity of heating over the entire drafting surface and the constant maintenance of temperature, all thanks to the special geometry of the chests and diathermic oil heating that is circulated inside the conch cavity ducts.

The baskets, a key part of the ironing process, are made of 8mm-thick steel plate with special insulation that prevents heat loss, achieving a considerable reduction in energy consumption.

Boiler, pump, and oil system are integrated into the structure, so that the space of the boiler room with its associated installation costs are eliminated.
LONGITUDINAL AND TRANSVERSE BENDING SYSTEM
Traditional industrial-type bending system operating on one, two and three ways.

One central route: 1-2-3 longitudinal folds and 1-2-3 transverse folds.

Two independent side ways: 1-2-3 longitudinal folds and 1-2-3 transverse folds.

Three lines: 1-2-3 longitudinal folds.

Partial and total by-pass system.
PLC CONTROL SYSTEM
The Control System is a brand new generation PLC very simple in use. Machining programs can be created and modified and adjustments can be easily made via the keyboard, whenever the operator sees the need. Programmable microprocessor electronic control provides maximum feedback for constant and perfect adaptation to the specific needs of the user.

Meggy adopts the teleassistance system. This enables a real-time support, with the ability to update or create new programs, as well as control, setting and update from remote terminal.
TECHNICAL INFORMATION
Multi-roller mangle with movable chest.
Roller diameters: 800 and 1200 mm and drafting widths of 3000/3300/3500 mm
Steam and Gas heating.
All VELA CHI mangle are equipped with fixed chest and newly-developed movable roller.

Pneumatic lifting and automatic alignment of base and rollers.

Roller movement with gear motor directly connected to the roller controlled by inverter.

The drafting pressure is adjusted via the control panel, through which it is also possible to adjust the speed of the rollers and the temperature of the chests.

Robust and resistant high-pressure chests.

Inverter-controlled humidity exhaust fans.

Air exhaust temperature control indicators.

The introducer table is ergonomically inclined for better linen introduction

.

10″ TFT touch-screen control panel with a very simple design that allows operators to control all functions quickly and easily.

Analogue system for information and speed control.

Centralised moisture extraction system located inside the machine.

Full-surface perforated ironing rollers to optimise vapour extraction.

Exhaust air temperature control with the possibility of increasing or decreasing the vacuum by simply activating or deactivating a button.

Removal of side panels for routine maintenance.

Insulation. The insulation blanket is made of fireproof mineral wool mats, resistant to water, steam, oils and acids and finished with galvanised sheet metal.

The high performance of machines under the TOLKAR brand reinforces its already high reputation for building ironers that are reliable, economical in operation and conform to European health and safety standards.